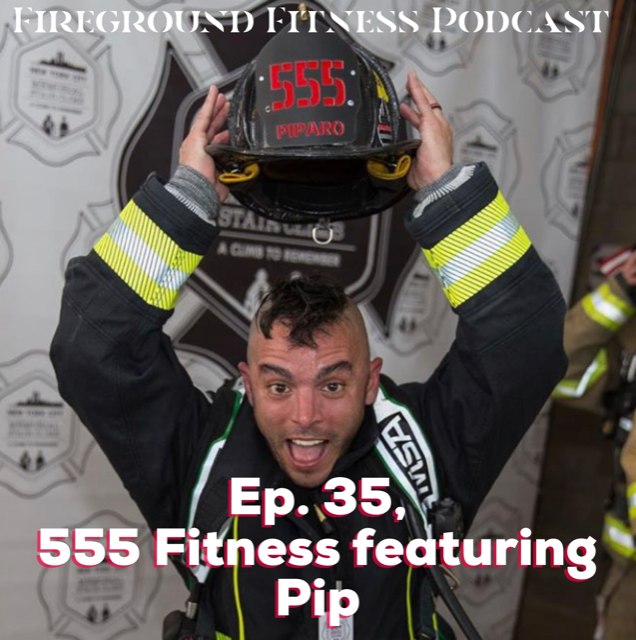 When we consider our desire, to serve and protect our communities we often focus on the firefight. The just in time response to the critical, destructive and fast moving emergency. Our response must be aggressive, smart and powerful. The work demands it and if we are going to mount a meaningful fire attack we have to bring it!
Looking at the statistics of firefighter fatalities that are related to cardiovascular illness it has become shockingly clear that the physical demands of the job put a legitimate strain on our bodies. Understanding this reality it is imperative that we do something to better prepare for the rigorous demands on the fireground. We have to eat right, physically train and get good rest. It is a difficult challenge but it is our individual responsibility. The folks at 555 Fitness take this responsibility seriously and are doing great things to support you and the brotherhood. 
On episode 35 Pip and I discussed many things, but most importantly he shared with me his passion for the brotherhood. How he and the folks at 555Fitness are doing what they can to help firefighters get Fireground fit! Please enjoy!
______________________________________________________________________________
You can find the Fireground Fitness podcast wherever great podcasts are located. So, search it out and subscribe. Your feedback is powerful, and greatly appreciated. Go to apple podcasts, subscribe, rate and review the podcast or shoot me an email!
If you would like to contact today's guest...
Email:pip@555fitness,com
IG: @555fitness @555pip
FB: @555 Fitness  @robert Piparo
Your host can be reached at:
IG: @firegroundfitness
FB: @fireground fitness
Email: raynegray@firegroundfitness.com